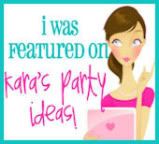 One of my favorite party websites featured me and I want to send a big THANK YOU to Kara from Kara's Party Ideas for featuring Sawyer's Woodland Birthday. She picks winning features every day showing real parties from around the world to help inspire us! Check out her blog if you haven't already!
Also a big thank you to Jillian with Catch My Party. She has featured me a couple times and I absolutely love her new site. Check out Catchmyparty.com to feature your own parties and showcase your own photos. I have found so much inspiration from this fun new site.
Thanks again girls! Lots of Love!!